09/21/13

Last September was my very first photoshoot for this year...
yes its been a while XD
I've been so busy with life, work etc.. so I become more active with Youtube covering random songs.
Anyway, its also my last shoot with
LUNARU
before she go to Japan ((Oh dear I'll surely miss her T_T )) It's my 2nd time working with her, the first time was way back 2009 or 2010 I can't remember,
for Pandora Hearts shoot...
((oh noes my memory T_T))
LOL ok so weeks before the shoot me,
lokichaos
and Arren decided to make our own 3dmg based on blog tutorials we saw around.
derping around, we bought some materials for our 3DMG
The water + stick-o diet starts now haha XD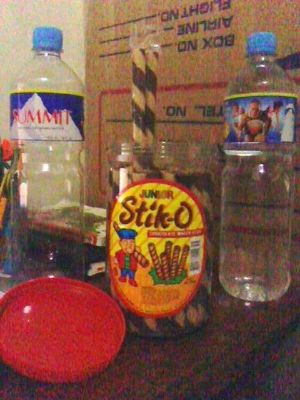 After hours of planning and brainstorming (lol) what we got are we got 6 bottles of one liter mineral water , cylindrical shaped container and a huge carton box for our basic material.
We used the bottles for the "gas tanks", the carton for the "body/blade holder" or something and the cylindrical container for the back i forgot what it is called haha XD


Day 1
We started working with the measurements and cutting the materials and stuff, we wrapped the bottles with rubber sheet and started painting primer to the parts.
Day 2
We work with the blades, and paint the parts silver. As Kai and Arren work with 3dmg i went sewing Arren's Jacket XD indeed 3 heads are better than one. XD
Day 3
As Kai and Arren resume painting, assemble the parts, working with the details and the "BDSM" belts lol, I work with our hoodies. Everyone decided to stay overnight because the next day was the shoot T_T yes we're cramming to the maxXD
THE NEXT DAY...
No one got a decent sleep..

The huge problem we encountered was how we will wear the equipment, =_=" Kai was able to wear hers but me and Arren wasn't able to because of other technicalities and weather -sigh-expect the unexpected ...
But set them all aside, the shoot went well.
We still had fun and made lots of unforgettable moments.
I'm happy because its been a while since the last time I've worked with fellow cosplayers in a project, I feel like a noob again haha.

.. for me the best parts aside from being able to cosplay the character and pose infront of cameras and stuff are meeting new people and spending time with friends who shares the same interests.

Photo by:Ron

(Left to right - Anrie as Eren, Chi as Armin, Kai as Hanji , Lunaru as Mikasa and Me as Erwin)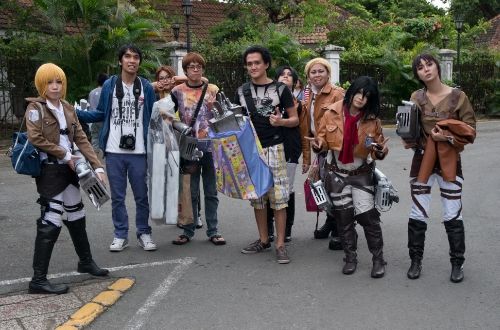 Photo by:Ron
(Left to right -
Chi, Z3ll, Kai, Abu, Lanz,Arren,Me, Lunaru and Anrie)
>_<))//
We still plan to do shoots in the future, hopefully we'll be able to use this 3dmg soon XD
lol lesson learned... don't procrastinate LOL